Here's a guide on how to get nice pictures of your crafts. It might be useful for some. A good picture can really change how people see your model. So spending a little time to get a good photo can really make your model look better. So here it goes:
Camera settings:
White Balance:
All cameras should have a setting for White Balance. This determines what will show up as white in a picture. When making a picture with lots of sunlight, your white balance will probably be automatically detected. However, making pictures inside the house with a lot of lamps shining on your subject, your camera might have some problems determing the white balance, and your images will be all blue-ish or very orange. So check your camera's manual on how to change this to a correct setting.
Focus
Check your camera's settings for focus. Does it always try to focus on everything the lens is pointed at, or can you also choose to focus on only some parts? If so, be sure to use this, so that you'll get sharp pictures of your subject instead of the background!
ISO value
On most cameras, you can set ISO values if you're not using the default "automatic" mode. If you raise this, the shutterspeed will increase, thus result into sharper pictures, However, the higher the ISO value, the more "noise" will be added to your picture. Noise are red dots that appear on the photo. They are especially seen on darker surfaces. If you're using just a compact camera, I suggest not using anything above 600 ISO. I highly recommend using a tripod instead of cranking up the ISO values.
Flash
I strongly recommend not using a flash when photographing your models, unless you can choose settings for how bright the flash will be. This will often cast unnecessary shadows on your model, and any white surface on your model will pop out on your mini, making at a distraction for the viewer.
Setting up a mini studio
It's really easy actually, For just around 5-15 bucks (excluding camera), you'll have yourself an awesome studio. Here I'll show you what I use when making pictures of papercrafts: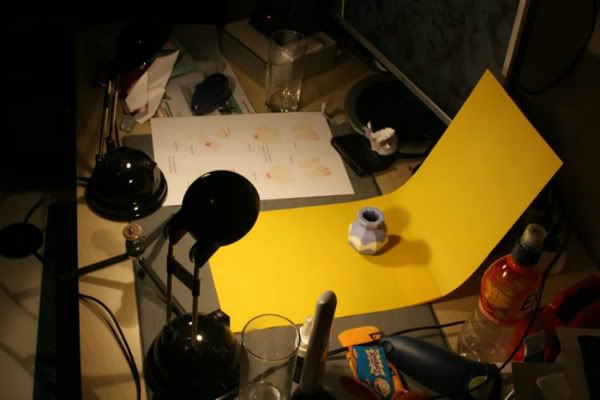 (The blurry letters says something like: "A tripod or even a book will prevent blurry images")
Nothing fancy ey?
You'll need...
-A camera (duh...)
-one or two bright lamps that can be moved around
-A tripod, but even some books will do
-A big sheet of paper* (I bought mine for about 3 dollars)
-A kickass papercraft!
-Some "buddy" or gum-ish tack that can hold the paper up, and two "heavy" objects to make sure the paper stays in place
*You can also just use two normal a4sized papers, one standing right up, and one laying down. Basically any calm background will do. Here's a demonstration on what different colors can do with an image: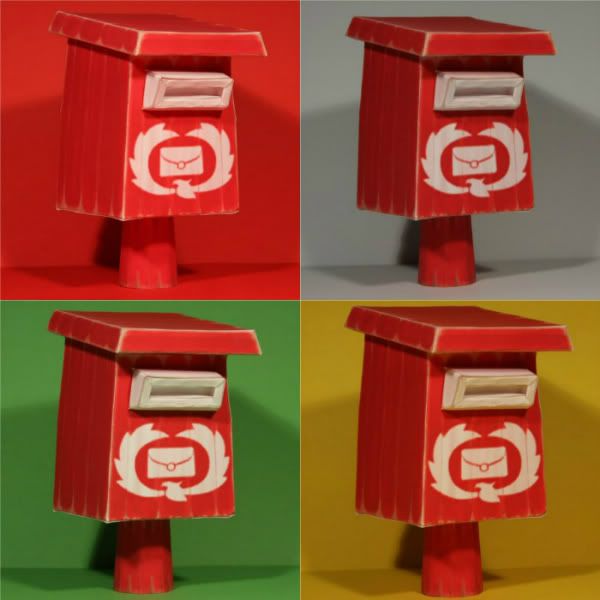 Why making a studio?
Let's just make that easy to answer... Which photo looks more appealing?
or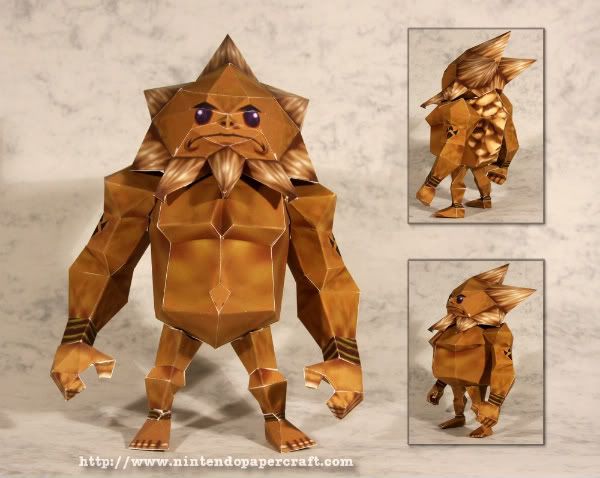 Some final tips
-Focus on your craft, not the background!
-Can't hold your camera still? Use books or a tripod! Preferably ALWAYS use a tripod/books
-Make pictures from different angles of your model.
-Choose your background color wisely! It can change your papercraft's look.
-Take your time. Show off your miniatures in all it's glory!
If you want to know how I always add images from different angles into one final image, be sure to check out this tutorial:
http://www.veoh.com/videos/v16778835WMHBRaGT
.
It's for photoshop though, so if there's interest in a Gimp tutorial as well, I might make that.
If there are any questions, feel free to ask!